About Weekend Warrior Racing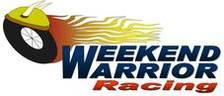 Olsinvest Financial owner and Financial Planner, Alan Olson, formed Weekend Warrior Racing in 2006. We are located at Summit Point Motorsports Park in Summit Point, WV. Come check us out at any of the races we are attending, you are always welcome. Should you decide to become involved in racing or if you already are, we welcome you into our paddock. We race because we enjoy the time we spend at the track with our friends, yet we strive to be competitive.
We also race to raise money and awareness for ALS (Lou Gehrig's Disease). ALS Awareness has been our focus ever since Alan's brother-in-law was diagnosed in 2005. We do this through Fuller Friends. Fuller Friends is a group of Wayne Fuller's family, friends and fans whose purpose is to help defeat ALS! We participate in several events on an annual basis to raise money to find a cure for, and awareness of ALS. Wayne is the brother-in-law of Alan Olson's wife, Holly.
Wayne has touched many lives and that is evident when we gather together each year for the annual Walk to Defeat ALS on the mall in Washington, DC. The Fuller Friends group has shown its strength by being the single largest group of walkers at this annual event since we learned of Wayne's diagnosis with ALS. Our Facebook Page "
Fuller Friends
", allows individuals to stop by and see what is happening next.
Individuals and corporations can make donations by contacting us through
The Walk to Defeat ALS Website.
---
The
News
page contains updates from our recent events. We try to update Monday after each weekend, but sometimes we are a bit later.
The
Calendar
has now been updated through August 2018 and others will follow shortly.
The
Sponsors
page has been updated to show our main sponsors The ALS Association and Fuller Friends, please view these and if possible visit their sites. If you feel compelled to make a donation, the information to do so is a click away!
The
Team Members
page has also been updated and will continue to be updated with additional drivers, crew, etc.
Regards,
Webmaster