2017 A New Chapter
A New Beginning
Late 2016 Alan decided to rent a Spec Racer Ford (SRF) for the last race of the season. He won both races despite never driving one of these. That weekend ignited a desire to continue racing SRF for the 2017 and begin the search for a race car to purchase. By the third race of the season, a car was procured from a gentleman that was no longer racing. We went through the car with help from Hagerman RacEngineering, updated a few issues and immediatley started winning races. The SRF is a purpose-built race car as opposed to a production (street car) car that has been converted. It is a fast car that requires extreme concentration.
​Prior to buying this car, Alan had 3 wins and a 2nd place in the Mid-Atlantic Road Racing Series (MARRS) for 2017. As of this update, Alan has a 900 point lead in the MARRS series and almost a 100 point lead in the Triple-T Cutting Tools series.
​
---
2016 SCCA MARRS 1 is in the Books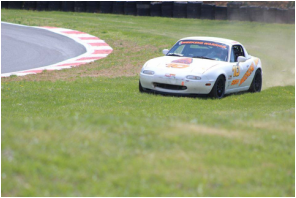 SCCA SSM Race 04/09-04/10
​The 1st race of the season was good. Alan ended up winning the Saturday race. After getting some unwanted assistance off track, he finished 3rd on Sunday. Nathan Bates had a top 5 finish Saturday and a 23rd Sunday after having to go off track to avoid another car. Scott Krzastek returned to SCCA and had a great first race at Summit Point after a long layoff, he finished 9th on Saturday and 13th on Sunday. Stuart Smith continues to improve after a long off season and major car repairs. His car had to be re-aligned after a terrible job by someone else before he could even go out for practice. He improved his position 2 places on Sunday over Saturday's results.
The current points standings have Alan with a small lead over the 44 other cars racing for MARRS Championship points. Its early in the season so that may change. Points can be found here:
http://www.marrspoints.com
look under SSM.
​
Next race is a feature race at SCCA Majors at Summit Point on 04/29-05/01. Saturday and Sunday races will be sure to mix up the top 10 in points.
---
NASA MA Ocktoberfast End Of The Season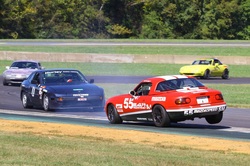 Above all odds was the theme this year for all the drivers representing Weekend Warrior Racing. Scott finished 3rd in points in SSM with NASA MA and Ronald finished 6th in SM out of 43 SM drivers.

Scott only ran a handful of races this year due to other commitments but secured a win and a second place to take podium honors in third place for the regional championship. Ronald ran a full season and battled neck and next right down to the last race for 6th place honors by just a few points after starting the final race 1 point down in seventh place and a spin in the first race. With a few coaching tips from Alan, Ronald started to man up on the wheel this year.

Congrats to both of our talented drivers for a strong finish to the racing season.

---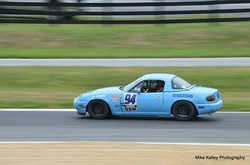 2014 SCCA MARRS 5 at Summit Point

Weekend Warrior Racing owner and driver Alan Olson borrowed a fellow racer's car since he was not feeling well. The objective was to get some data and video for his friend to view and possibly assist him in improving his lap times. Alan went out on Saturday's race immediately after a 1 hour downpour. The track was soaked and it made for a very entertaining race. Alan would finish in 4th place which was a surprise to him. Sunday's race was the exact opposite, dry and clear with lots of grip available. Alan would finish 4th again with a lap time just thousands of a second off the fastest lap of the race. It was a great weekend for all the Weekend Warrior crew.


---
NASA MA 2013 Hyperfest Weekend At Summit Point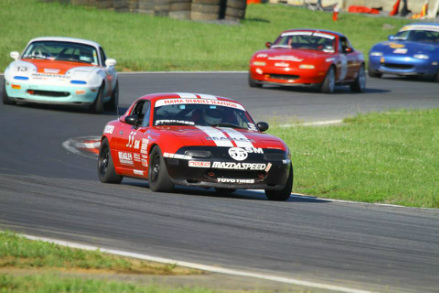 Weekend Warrior Racing driver Ronald Roderick had a few struggles over the weekend. Unable to take advantage of the test day he started out Saturday warmup getting back into the groove of driving Summit. Ronald was about 3 seconds off the pace but thought it was because so many had been testing the day before. At the beginning of qualifying a rear tire started going down and the car was handling terrible. With a thorough inspection of the tire by Phil's Tire Service a leaky valve stem was found to be the problem. In Saturdays race Ronald made up a couple positions to finish 13th but was still suffering from being 3 seconds off pace. Sunday qualifying was a little better but still down on times. Everything ran fine and no noises could be heard. Ronald pumped all the fuel out of the tank and put just enough in to finish the race. The start of the Sunday race he was able to get a good start made up a couple of spots but quickly lost them through turn one. 4 laps later going down the straight he shifted into 5th and the 200,000 mile open differential decided it had enough and failed. Ronald was in good spirits despite the setback and joked the he won the race....back to the paddock. Time to do some upgrades to Ronald's SM and help him move up in the pack.

---
NASA MA 2013 Spring Rumble at Summit Point Raceway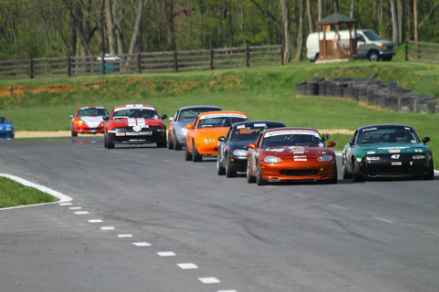 First race at Summit Point Raceway for the year with NASA MA. It seems that we are keeping with this year's tradition of one wet and one dry race. Saturday was beautiful, starting out cool in the morning and working its way up to 70 degrees by race time. Weekend Warrior Racing had three entries for the race weekend. Rich Hoyer and Ronald "Stringer" Roderick in SM and Alan Olson shaking down the 13 hour SM for an upcoming race in SM "Fun" during the weekend. Rich finished the Saturday race with and 8th place finish and finished a very impressive 4th in Sundays rain race. Ronald Qualified 13th with bump drafting help setting his personal best lap time of 1:30.8 during qualifying for Saturdays race and finished 10th. Sunday Ronald started 14th and finished 10th in the rain race.


Ronald "Stringer" Roderick's in car video from Saturdays Race

---
NASA MA 2013 March Madness - Snowmageddon part 2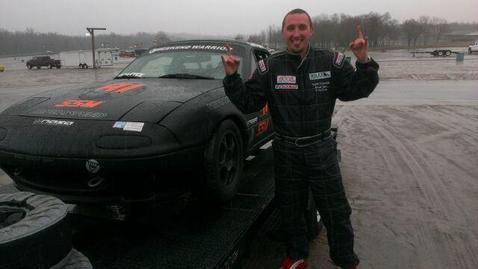 Two race weekends and two snow events. What are the odds of that happening? I would say 100% if you made the first two race weekends this year with NASA Mid-Atlantic. WWR drivers Scott Krzastek and Ronald Roderick represented the team with great results. Scott brought home a 1st and 2nd place finish in SSM and Ronald brought home a 7th place in SM for his best finishing position to date. Ronald also set his own personal best lap time of 2:25.5 at VIR. The team is really coming together and getting better and better every lap.



Saturdays Race from Ronald's in-car camera

---
NASA MA 2013 Snowmageddon Lap Dance at VIR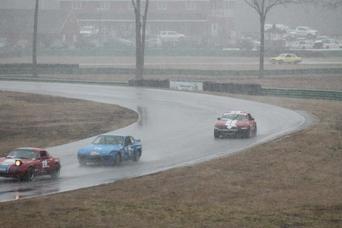 First race weekend of the 2013 season and we arrive to a beautiful sunny VIR with temps around 62 degrees. You could not ask for anything better. Wait for it…

SNOW! It was sunny and 62 yesterday and now it's snowing? Ronald skipped practice in the morning and seriously thought about not racing until it was almost time to go out and qualify. When it was time he sucked it up and went out and did his best. He qualified last and stayed on track the whole session. Race time and he was ready for the most challenging race he probably would ever have. There was heavy snow and the track was real wet as they headed out for the pace lap. The pace car ducked off into the pits. We are all ready to go. Green Flag! They all take off and in a matter of two seconds all you could see was a wall of water spray Ronald ended up finishing 7th.

Sunday morning came and everything was frozen but dry from the 20 degree night temps. Sunday's race was 40 minutes of fun on last years RA-1s. Ronald spent a number of laps chasing down a fellow SM driver and then got lucky and made the pass. A few laps later he caught back up to Ronald and made the pass back. A couple laps later the white flag came out and Ronald tucked in to get a run behind a BMW to draft past him. He knew he was going to do that and made his move to kept him from making the pass at the end of the straight. It was close though. They finished nose to tail taking the checkers. Ronald finished 8th and broke into the 26's right off the bat this year. This is going to be a good year for Weekend Warrior Racing!


---
Weekend Warrior Racing Takes Two Wins At Oktoberfast at VIR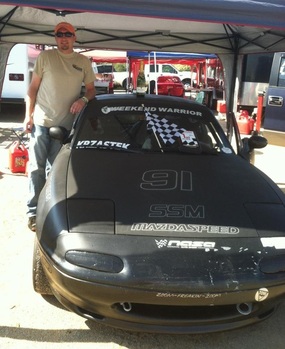 Borrowing a tag line from a famous NASA GTS racer, "Three or Four for sure" seemed to be the right words as Weekend Warrior Racing drivers planned on entering the last NASA Mid Atlantic race of the year. Three races in one weekend drew the drivers out.

Saturday was a double sprint race day. Track conditions were slick for everyone but the drivers pulled down their visors and went to work.

In the first sprint race which ended under double yellow about half way through, Scott Krzastek finished 3rd in SSM, Rich Hoyer finished 10th in SM and Ronald Roderick finished 16th.

In the second sprint race which also ended under double yellow half way through, Scott Krzastek finished 1st in SSM, Rich Hoyer finished 7th and Ronald Roderick finished 13th in SM.

Sunday the field was inverted for the 55 minute race and Scott Krzastek took the win again in SSM, Rich Hoyer finished 5th and Ronald Roderick (starting on the pole) finished in 8th in SM.



---
NASA Summer Breeze 2012 at Summit Point Raceway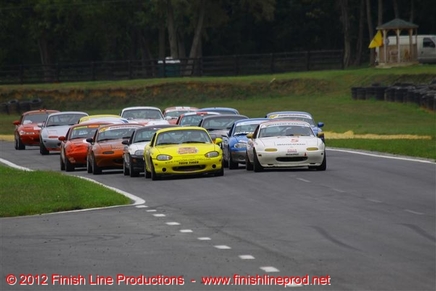 Race day Saturday offered unusually cool temperatures for August with high 70's and sunny skies. Weekend Warrior Racing owner Alan Olson qualified on the outside pole for the race in the fellow team member Rich Hoyer's #5 Spec Miata. WWR driver Ronald Roderick towards the back of the pack in the 11th spot. Being the first NASA race Alan has run all year he did an outstanding job and finished 2nd behind Adam Molaver. Ronald gained 2 positions during the race to finish 9th. The race was red flagged and ended a few laps early due to two cars which ended up in the wall in a very vulnerable place.

Ronald also drove in the NASA Time Trial Series on Saturday. The Time Trial Series runs by the rules of Performance Touring Series and each car is classed and asses points based on every aspect of the car. Ronald drove flyer lap for a 3rd place podium spot for the team and his sponsors. Two podiums for the WWR Team was a great way to finish a day!

Sunday's qualifying session was cut short for a 944 hitting into a wall in T4 and ending qualifying a little early. Alan qualified on the outside pole and Ronald qualified 13th. Alan drove hard to take the lead from Adam Molaver until he ran short on fuel with a couple laps to go after a miscalculation on the length of the race. Ronald worked his way up to 8th place and ended up in 9th place after an incredible 20 minute back and forth battle for position with Joe Benton.

It was a great weekend for everyone and both cars are in one piece and ready to race at VIR. Weekend Warrior Racing should have the entire team making the last race of the year. Alan Olson, Rich Hoyer and Ronald Roderick will be racing in Spec Miata and Scott Krzastek will be racing in Showroom Spec Miata.



---
NASA VIR Heat Wave 2012


---
NASA Hyperfest 2012
June 15-17. 2012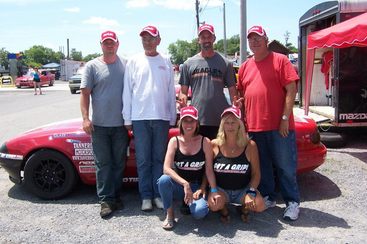 The weather was spectacular for the 11th annual Hyperfest weekend. Last year Team Owner Alan Olson won the main event and this year Ronald drove a respectable and clean race to finish 13th in his next to last rookie race to finish off the weekend with an 11th place in the Sunday race.

Ronald has come a long way to run in the Spec Miata racing series. With an abbreviated HPDE schedule he was quickly put into the instructor position for NASA MA and SE and has run Time Trial for several years while he built his car for Spec Miata. For his rookie year we are proud of his current 4th place standing in the regional points for Spec Miata with NASA-MA. WWR Driver Scott Krzastek also holds the 4th place in points for SSM with this years limited schedule. Congrats to both drivers for a job well done.


---

SCCA Labor Day Double
September 3-5, 2011

Saturday's Race:
We decided at the last minute to race in the SCCA/MARRS Labor Day Double race at Summit Point Motorsports Park in Summit Point WV. Joey and Alan spent Friday night preparing the car for the early Saturday Qualifying Session. Since Alan had not raced a Regional race with SCCA (just the National Race, which we won), he was forced to start qualifying from the back of the field. This did not provide much of an opportunity for clean laps or a chance to get a good lap time. Despite the crowded session, Alan was able to obtain the 5th position out of 36 cars at the start.

We started the racing just after lunch. Alan had a less-than-stellar start and dropped back to 7th place on the first lap. Some aggressive racing by others early in the race provided an opportunity for Alan to make up a couple of positions and he spent the majority of the race behind Brian Price (who checked out on the rest of the group), Jedd Fahnestock and Neil Orourke. About 1/2 way through the race, Alan was able to get by Neil and close in on Jedd. Alan made a couple of attempts to pass Jedd on the front straight but Jedd made it very difficult for Alan to complete the pass. Late in the race Alan was able to get past Jedd on the very inside of the straight, however, Alan missed the important 2-3 shift in Turn 2 and he allowed Jedd to get back by him in Turn 3.
The race ended with Brian Price winning (duh!), followed by Jedd Fahnestock in 2nd, Alan Olson in 3rd and Neil Orourke in 4th. It was a great time racing with these guys after a long absence from the MARRS series.

Sunday and Monday:
Since Alan's car is possibly sold, we decided to let the car rest and avoid any potential damage. Alan spent the Sunday and Monday race as a guest commentator announcing the races along with Dave Parker and Alex Ratcliffe.

Pictures to follow....




NASA Summit Summer Breeze.......The Good, The Bad and The Ugly
August 20-21, 2011

Some of the Good:
We'll start with some of the "Good"; Weekend Warrior Racing came away from Summit Point Motorsports Park with 2nd, 3rd and 4th place finishes. Alan Olson finished the SM race in 2nd place after starting on pole and leading the race until Adam Molaver made a last lap pass and Alan could not re-gain the lead. Scott Krzastek and teammate Richard Hoyer battled each other in the SSM race, with Scott finishing 3rd and Rich close behind in 4th both days! Crew Chief Joey Zarrella finished 2nd in his Hyperdrive! Ronald Roderick ran some times in Time Trials that would rival the majority of the SSM field!

The Bad:
In Sunday's race Alan developed brake issues and retired from the race with just under ½ the race completed. He did post the fast lap of the race by 1/10 of a second and had planned his race out for the win….

The Ugly:
Alan had convinced a fellow racer, Louis Interdonato, to come out and race with us. In the "practice session" someone went off track and made a poor re-entry back onto the track. This driver came back on track at an angle that did not allow him to see cars coming by at a high rate of speed. He pulled out right in front of Louis. Louis made a valiant effort to avoid contact but his car took a severe hit to the driver's door. We are lucky that no one was hurt. It was clearly the other driver's fault as he was DQ'd for the day….supposedly! After the driver refused to bear any responsibility and acted quite belligerent in the paddock, he was able to convince officials to let him race that day, only his qualifying time was disallowed. This seemed to be in direct opposition from the way Alan was told NASA operated, certainly after he was DQ'd for a very minor incident in the last race, in which case he accepted responsibility and went far beyond what would be considered generous to make up for his mistake. Alan was told NASA had to be consistent, well so much for that! To make matters worse, NASA allowed another DQ'd driver to take his position in the Sunday race….so much for organization and consistency.
We are not very pleased at this point, Alan's DQ at VIR may have cost him the Championship and the failure to make the DQ'd driver in Sunday's race start from the back may have cost WWR teammates Scott and Rich to lose valuable compensation for their finishing positions.

Ending with more Good:
Rich and Scott both had a wonderful time racing! Rich obtained his best finishing position yet and Ronald Roderick continues to improve his times and is now considering racing in either SM or SSM next year. We were all able to wish Carrie Zarrella a Happy Birthday! We had many guests at the WWR paddock, coming from as far as Brussels, Belgium; Yuma, Arizona and closer. More good than bad,.... and the ugly?....well, that happens sometimes.

Possible video uploads later….




NASA's Sweaty Summer Slam?

July 22-24, 2011

The temperature was at least 100 degrees on Saturday. This was the second year in a row for this type of heat at this event. Alan looked like a drunk walking around with his gallon of "shine" (we were a stone's throw away from NC) only his "shine" was a gallon of water. Thank goodness for Ronald Roderick's homemade canopy set up as we were forced to head down to VIR with only an open trailer...with a bad tire (more later). This was the 2nd race of the Teen Mazda Challenge Series which races along with the regular SM race. There are some very talented young drivers and several of these will go on to stellar racing careers. A few that come to mind are Nate Sparks, Justin Hille, Nick Bruni, Scott Phillips and Michael Lliteras. These guys are very talented drivers.

Saturday's race had Alan starting in the 4th position behind Nate Sparks, Justin Hille and Adam Molaver. The weather was looking like rain and everyone in front had put on rain tires except Alan. He was planning on the rain not being as bad, he was correct. However, the lightening postponed the start and Nate Sparks took that opportunity to put on his dry tires. The race started and Nate and Alan took off to establish a very large lead over the rest of the group. Sadly though Alan had nothing for the young gun. Alan finished in 2nd place about 10 cars behind Nate Sparks.

Sunday proved to be a bit better for Alan as he qualified 2nd. You wouldn't know that the way he was talking in tech after qualifying. He was so sure he had the pole position because he caught a draft behind a faster car (out of class car). He was talking about lap records etc.... Turns out the car he was drafting behind was one of the slower cars from a different class. Nate Sparks had the pole position again.
At the start Alan vowed not to let Nate get too far away and with about 1/2 the race done, Alan made his move to the inside of Turn 1. Nate did a good job of limiting the space Alan had so he decided to get back behind Nate, this was about the time Nate decided to start braking for T-1. Alan clipped the back bumper of Nate's car and both of them went spinning off track.They both got back on track promptly and had such a large lead on the rest of the group that little changed with lead. After about 1 lap Alan, trying to be a nice guy and feeling bad about sending Nate spinning off track, allowed him to get back out in front. The two of them proceeded to change positions leading several times with Nate passing Alan back right at the Finish Line!
Alan was later forced to pay the price of having contact with Nate by getting his first ever DQ. Even though he did the decent thing, letting Nate back out front, contacting another driver's car and sending them off-track is punishable with a DQ.

The drive home was exciting in its own way. Seems the single car trailer had a bad tire on it and blew out about 1 hour from home. Thankfully a fellow racer saw Alan on the side of the road and stopped to offer opinions about the racing that occurred and how Alan was changing the tire all wrong. Jim Thill was great company watching Alan do all the work. Ah, the joys of racing with your buddies!

Finally, we met some newcomers to the sport this weekend that were participating in HPDE (High Performance Driving Experience), driving their street legal cars on the track. One of the people I met is a young lady who was seriously injured in an accident while crossing a street. She was a pedestrian and was hit by a vehicle. She faced some insurmountable odds when in the hospital. Her attitude and positive spirit was an inspiration! To speak with her made me realize how truly blessed we are.

Next race: Possibly the BeaveRun SCCA Double National Race, then Summit Point Motorsports Park for the next NASA Race.
NASA Hyperfest at Summit Point Motorsports Park
June 18-19, 2011
I need to preface this report by stating that I have never had any good luck at Hyperfest. Last year, under caution, there was confusion on a pace lap (I was in 2nd) and the 3rd place car passed the pace car (not allowed). The driver should have been DQ'd but wasn't. I felt I had a chance at a win, but the race finished under a full-course yellow. In 2008, after qualifying 2nd, I was bumped off track early in the race and knocked back to 10th. I was gaining on the leaders when a Red Flag came out and the race was ended after only 4 laps, I finished 3rd. I was determined this year would be different.

Practice on Saturday morning was raining but showing signs of drying up. We opted to pass on the opportunity to get a few laps in to potentially avoid any damage to the car (which tends to happen more frequently when racing in the rain). When the Qualifying session came up, we went out and the car was fast! It felt so good that after just 4 laps, we came in. We qualified on Pole!

At the beginning of the race we established a sizeable lead on the rest of the gang behind me. It was a pleasant drive for the first 6 laps, and then came the caution. I was prepared to fight hard if we got a restart and not let the past repeat itself and deny me another win at Hyperfest. We observed 4 laps under caution and got the green with Nick Bruni right behind me. We weaved our way through lapped traffic and had a blast racing.

I had told Nick pre-race that I would point him by for the win IF he was able to stay with me. I didn't really care about winning, just wanted to know I could have won..... I must admit I had some doubts if I would actually do this for him since before the yellow flag came out, he was nowhere in sight, but I decided I would let him by on the last lap. As we rounded the final turn, he got stuck behind a slower car and as we approached the Finishline he was not able to completely pass me. I will post video here soon that will show my brakelights coming on as we go past the finish.

It was a great race and Holly, Joey, Carrie and the rest of the crew had a great time.

Sunday's race was a different story... Same huge lead, but a car I was lapping (on the last lap) ran me wide in one of the turns forcing me off track. That allowed the 2nd and 3rd place cars to get by me on the last lap and we finished 3rd. There is still a great race for the points lead in the Mid-Atlantic Championship and we look forward to some close racing to come!

Nick Bruni's video from the restart below. I am in the white/black Mazda MX5 directly in front.


---
SCCA National at Summit Point Motorsports Park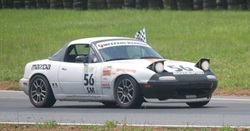 May 22, 2011
The day was threatening rain and we got it about 1/2 hour before the race started. The track was soaked, the paddock was soaked and everyplace you could drop a tire off the track was soaked, this would play into our favor later in the race.

Alan qualified the #56 car in the 3rd position, right behind 2009 SCCA Champion Steve Gorriaran. When it came time to head up to grid for the race, we determined that the rain would cease about 1/2 way through, therefore we went dry slicks rather than rain tires with plenty of tread. Our strategy was to not fall back too many positions then take advantage when the track dried later in the race. Except for one minor slip-up where the car got sideways, we ran a perfect race. In 3rd place and about 1/2 way through the race, the leader Gorriaran spun and went off track. The grass was so wet that he could not get good grip and he spun again trying to get back on track....right in front of Alan. He avoided the spinning car and proceeded to track down the then leader, Jonathan Boxwell. With one lap to go, Alan had caught up to the leader, created a great run off of T-9 of the 10 turn track and commenced to pass the leader coming into the last turn. It was a last lap/last turn pass that gave Alan the win!

Hats off to the Weekend Warrior Crew Chief, Joeseph Zarrella. Without his unbelievable commitment to the team, this win would not have been possible!


More importantly, Dave Caramanica finished his last "Rookie Race" in 3rd place, his best finish yet! He was able to remove the required "Rookie Stripes" off his car after the race. Dave was a thrill to have in our paddock this weekend as he usually races with the King Rat crew. He brought his wife down and she snapped many pictures of Dave which I will add shortly.

Next race is the NASA Hyperfest which is sure to be filled with excitement!

---
April NASA at Summit Point Motorsports Park
April 11, 2011 We had a great weekend with NASA Mid Atlantic. Raised some money for the ALS Association with the 50/50 raffle and topped off the weekend with 2 wins for the ALS/ Fuller Friends Spec Miata.

WWR Racer Scott Krzastek got a 9th on Saturday and a 6th place finish on Sunday amongst some some very fast competition.
Time Trialer Ronald Roderick gained ...more confidence in his newly powered Miata as well.
Feb. NASA at VIR
Feb. 20, 2011
The ALS/FullerFriends sponsored Race Car had a good showing to start off the 2011 racing season, continuing on the success of 2010's Mid-Atlantic Championship Win.

Saturday Feb. 19th at Virginia International Raceway, the Weekend Warrior Racing.com team was able to qualify 2nd and after leading a few laps, finish the race in 2nd. Sunday's race had us starting 9th (new tires slowed us down) and we managed to battle our way to a 6th place finish. The next race will be at VIR again where we will look for our first win of the season. The new decals have been ordered for the car, we thought about putting Wayne's face on the hood to scare the competitors away, then reconsidered... The ALS Logo along with the Fuller Friends Crab will be making their presence known shortly.